Something deep within me is drawn to places few people have ever seen—or will ever see again. This quest is what inspired me to learn to fly a helicopter in Alaska.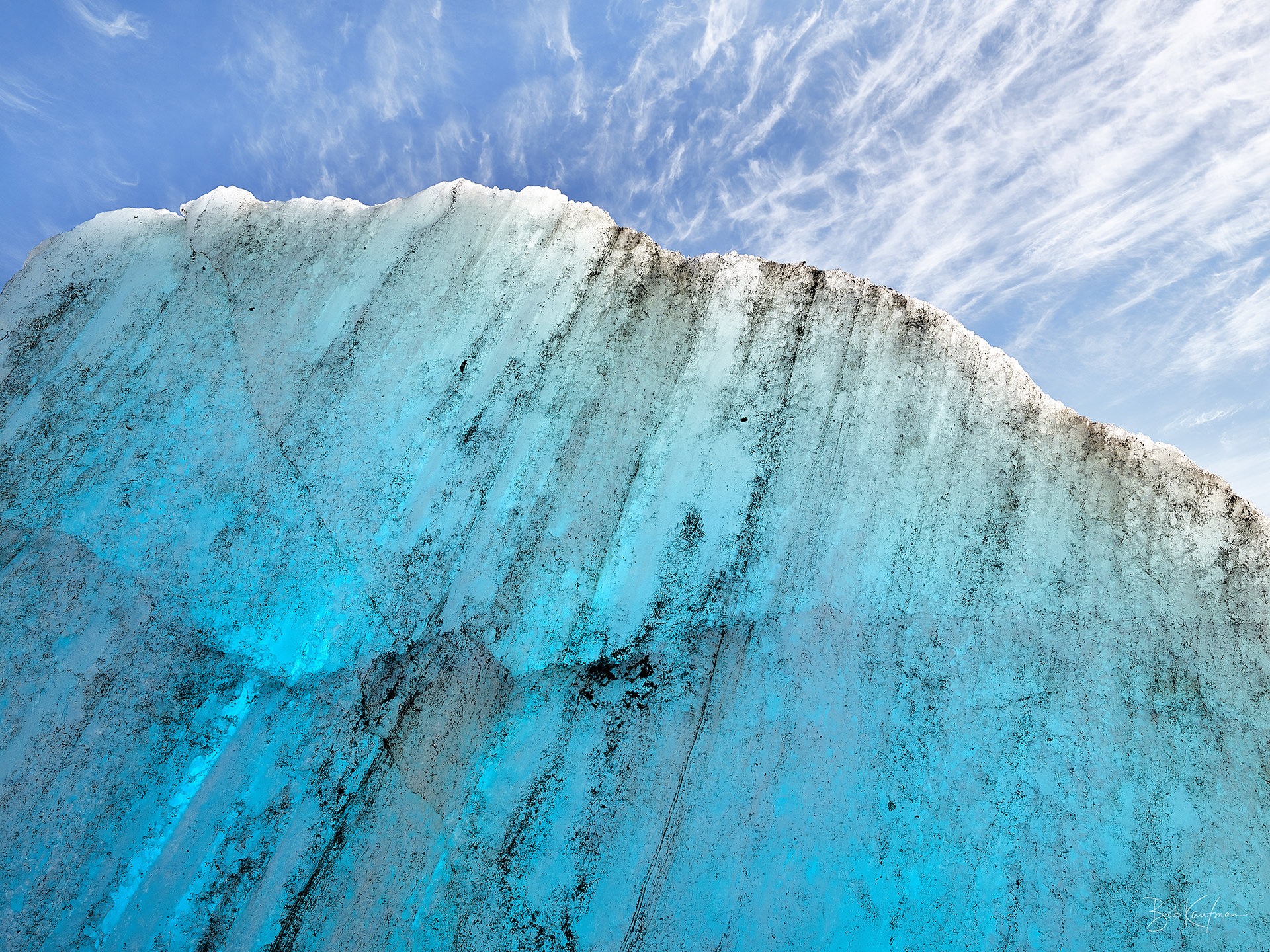 Wonders of Alaska
Discovering unseen natural wonders is a spiritual experience. It is equally a privilege to be able to share them through my lens with others who feel a similar awe that there still exist lands untouched since the time of Creation.
Come along as we set the tripod on a wild mountain ridge that has never before felt the press of a human foot. Or land on a newly-drained lakebed, surrounded by towering icebergs left behind only days ago by a flood of biblical proportions. Or stand feet from a cliff edge atop an ancient glacier that will soon disappear forever into the sea.
It's hard for me to accept that these places won't last forever. Untouched beauty is as ephemeral as life itself.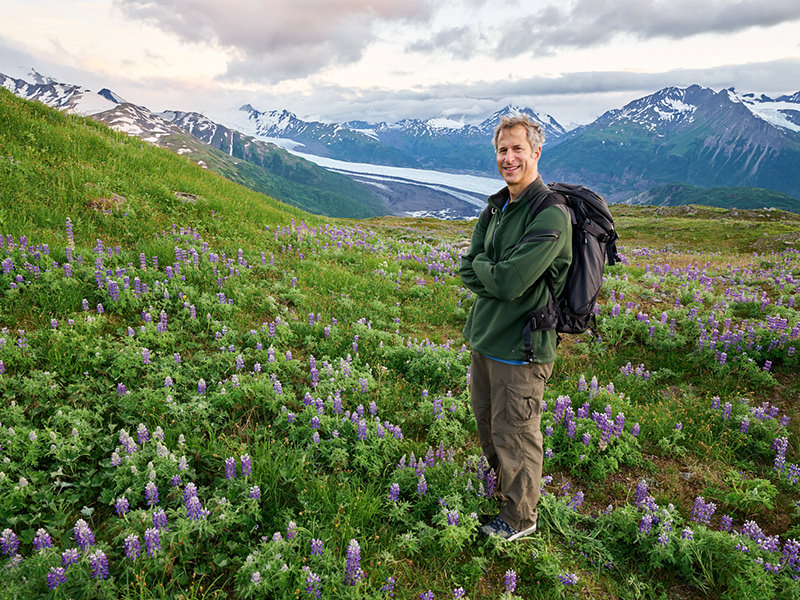 Early influences
Galen Rowell
In 1986, Galen Rowell published "Mountain Light," a book that coincided with a formative period of my development as a photographer. It was a story of a manwho worked for 20 years in his auto repair shop to save enough to become a full-time photographer, chasing magic light through the high mountains of the world.
Galen shared hard-earned learnings of his craft. He gave language to desires similar to those that were driving me. The book ignited my lifelong pursuit of the art. Two years after the book came out, I, too, left my job and set off to photograph distant mountain ranges across North America and Asia.
Galen helped me understand that my obsession with photography did not interfere with my experience of wilderness, but rather enhanced it. Photography drew me into remote territories and pre-dawn hours I otherwise never would have experienced.
Through Galen's books and workshops, I learned how to take advantage of the properties of film to produce a more powerful image than what the eye saw. It began my education in the ethics of nature photography and acceptable uses of technology.
Nicholas Devore III
When I cold-called the charismatic Nat Geo photographer Nicholas DeVore III in 1985, I had no idea it would spark a relationship that would last until his untimely death in 2003.
I asked Nicholas if he would critique my work. We met in Aspen, Colorado. It took him all of five minutes to review a portfolio I labored for years to assemble, at which point he advised, "You're a strong technical photographer, but you need to see what others don't see, to make an image no one else would make in the same location." His agency Network Aspen later represented my work and made several high-profile national placements of which I was especially proud.
As he traveled the world, Nicholas mailed me his photos as postcards. He was a master of abstract compositions made through multiple in-camera exposures, motion blurs, and other techniques. His work emboldened me to experiment. He once lived with me for a month in Alaska, where I came to understand how his uninhibited and even flamboyant attitude towards life intertwined with his ability to see the world differently.
Perhaps Nicholas left such an impression on me because I am in some ways the opposite. To use the words of one of Nicholas' mentors, Ernst Haas, Nicholas helped me understand that,
"The camera only facilitates the taking. The photographer must do the giving in order to transform and transcend ordinary reality.The problem is to transform without deforming." –Ernst Haas
Format & Equipment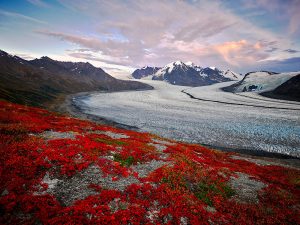 The beauty of the natural world lies not just in its grand vistas, but also its infinite detail: fine water streaks down a mile-high granite wall; a tapestry of fragile wildflowers and lichens carpeting the tundra; a jumble of crevasses shearing apart a glacier.
My goal is to enable the viewer to studythese details while immersing themselves in the larger scene. To that end, I use one of the most advanced image sensors in the world, a 150-megapixel Phase One IQ4 Camera with image resolution and color reproduction beyond what I can see with the naked eye.
At close to 8 pounds, it's a lot to handhold while leaning out of a flying helicopter! But it's worth it, because it enables me to essentially bring my viewer along with me as we discover places others may never see.
Protecting the Environment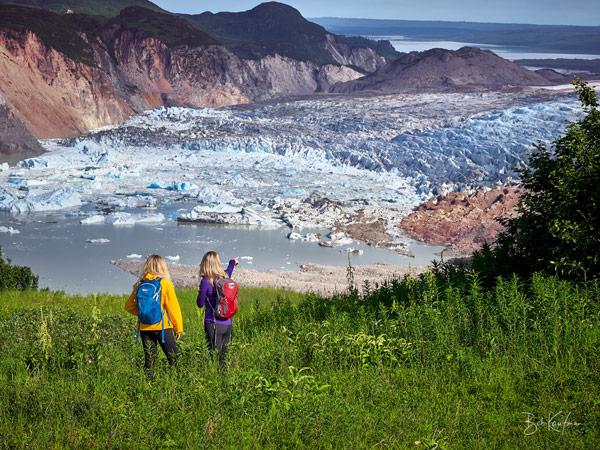 Protecting Alaska's wildlands is a cause I have cared about ever since I came to this magical place. One of the happiest moments of my life occurred in 1999 when I was presenting land acquisition options to my friend Richard Goldman in his downtown San Francisco office at which point he decided to make a large gift.
It turned out to be a seminal gift in the history of Alaska conservation. He lent tremendous credibility to the movement. Many other substantial gifts have followed. However, there is so much more to do. Many of the pristine places I photograph are not protected and are only one commodity price cycle away from being developed. If you care about these issues like I do, here's two organizations I've been involved with who are doing good work in Alaska.